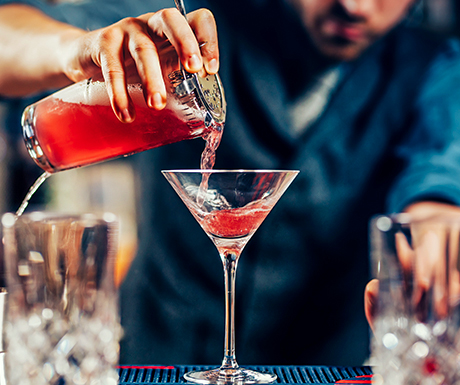 Sip sip hooray!
Your mocktail guide to being the life of the holiday party.
December 19, 2022 // 2 Minutes
We've got a list of holiday-inspired mocktails that yule never forget. Something else to never forget? How dangerous it is to drink and drive. So, snuggle up, grab your glass and get ready to sleigh the (safe and sober) holiday party game.

Berry Merry martini
Serves: 1
2 Tbsp fresh lime juice
1/2 Cup raspberry flavored sparkling water
Splash of cranberry juice
1-3 Raspberries
This mocktail is easier to make than your Slide-to-Buy Amazon order. Add the first three ingredients in a fancy martini glass, find a stirrer (or small stick) and garnish with raspberries.

Holiday mimo ho-ho-sa
Serves: 2-4
The juice of 1 grapefruit
3 12-Oz cans of ginger ale
1/4 Cup simple syrup
Handful of fresh basil
We love a mocktail that can make an appearance at any meal, any party or any time of day. Juice the grapefruit and mix with the ginger ale and simple syrup. Add your ice, basil and grapefruit rind to a champagne flute for the best non-boozy bubbly.

White (Christmas) Russian
Serves: 1
2 Oz brewed coffee
1/4 Tsp vanilla extract
1/8 Tsp peppermint extract
2 Oz heavy cream
1 Peppermint stick
Instagram-worthy and refreshing? Count us in. Grab your favorite Old-Fashioned glass, fill it with ice, pour in the coffee, and add in the vanilla and peppermint extracts. Slowly "float" the heavy cream over the coffee, plop in your peppermint and be on your merry way.

The outcider
Serves: 3-5
10-12 Quartered apples
1 Quartered pomegranate
1 Quartered orange
1 Cinnamon stick
4 Tbsp maple syrup
There's nothing better than a warm cup of happiness on a cold winter day. So, let's get started. Throw everything into a crockpot, add 5-6 cups of water and cook on low for 6-7 hours. (This is when we suggest taking a nap, going sledding or baking cookies.) Strain the mixture, locate your coziest mug and enjoy.
Coquito of the bells
Serves: 2-4
4 Cups of coconut milk
2 Cups of heavy cream
1 1/2 Tbsp powdered sugar
Pinch of salt
1/2 Tsp cinnamon
Pinch of coconut flakes
Known as Puerto Rican eggnog, this mocktail is sure to put you in the holiday spirit. Mix all ingredients in a blender, refrigerate overnight and serve in the trendy glassware of your choice. Garnish with coconut flakes, cinnamon and holiday wishes.